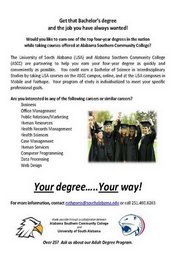 Your Degree...Your Way
USA Offers Courses at Alabama Southern Towards a
Bachelor's Degree
Collaboration makes it more convenient for students to pursue bachelor's degree in Monroeville
Alabama Southern Community College (ASCC) has announced a collaboration with the University of South Alabama (USA) to make it easier for ASCC students to complete a bachelor's degree closer to home. USA will offer courses in its Interdisciplinary Studies bachelor's degree program on the Alabama Southern Monroeville campus and online, providing an opportunity for students to pursue a portion of this degree in Monroeville. This generalized degree program supports a wide range of careers and is cited as one of the top 20 majors in the country. ASCC students receiving an Associate of Science degree can complete the Interdisciplinary Studies bachelor's degree in two additional years.
"We are excited about the collaboration with USA because it gives Alabama Southern graduates who want or need to stay in the area a more convenient way to finish a bachelor's degree," said Dr. Reginald Sykes, president of Alabama Southern Community College. "This opens up more doors for our students and those in the community who want to continue their education."
The Interdisciplinary Studies major offers four areas of discipline for students to choose from based on their individual career goals: Business Environment, Health Sciences, Data Processing Technology and Interdisciplinary Studies. Students must select the Interdisciplinary Studies discipline and will work with an advisor to choose two additional disciplines. Because the degree is very customizable, career options are broad and can range from office manager to web design to marketing to health informatics. All student degree plans are reviewed by USA to ensure they meet all academic requirements.
"We work with very closely with students in this major to custom create a degree that directly supports their career goals," said Dr. Jenny Manders, Chair of the Department of Interdisciplinary Studies. "Students graduate with expertise and skills in three fields of study, versus one, making this degree very appealing to potential employers."
For more information about these courses or the Interdisciplinary Studies Program, contact the USA Interdisciplinary Studies Department at 251.460.6263 or visit http://www.southalabama.edu/scesp/interdisc/al.html.
Instructional Design and Human Performance (IDPI) Program
The University of South Alabama has initiated a new undergraduate program. The program is for junior and senior years and is called Instructional Design and Human Performance (IDPI). It will give you the knowledge and skills to work in training departments, human resource offices, businesses, and organizations as an instructional or human performance specialist. The pay is excellent and jobs are in demand. Best of all, the program is 100% online! You can continue with your life, your family, and your work and go to school at the same time.